Special Open Gym Events
About once a month we have a "special Open Gym" that may be related to that time of year.  These usually include more than just the normal fun nights.  It is good to know when these "Special" Open Gyms are because it may mean a time change, a price increase and we suggest you sign up early to these events as they can sometimes fill up. Check this page for information on upcoming Open Gym Events.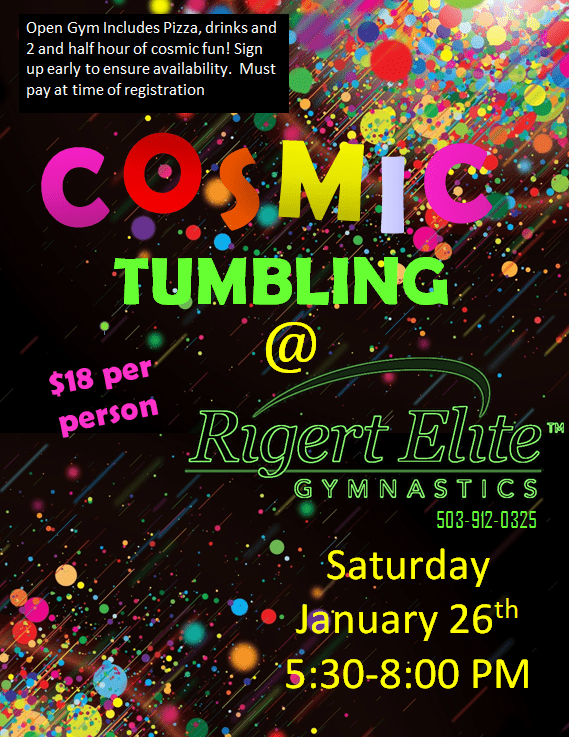 TENTATIVE 2019 SPECIAL OPEN GYM SCHEDULE – these dates are subject to change throughout the year.  Look for flyers with for sure dates and times etc. each month. 
All Special Open Gyms are Saturday Open Gyms from 5:00-7:30 pm unless otherwise specified
January 26th Open Gym In the Dark – Cosmic New Year – 5:30 to 8:00 pm
February 23rd Love to Jump –Bounce House Open Gym
March 30th – TBA
April 20th – Easter Egg Hunt Open Gym
May 4th – Cinco De Mayo – Nachos and Pinatas
June 15th – Camp In – Hot dogs, Nachos and Camping Games
July 13th – Ice Cream Social
August 17th – Superhero Open Gym – Bounce House Open Gym
September Date TBA – Dolls and Teddy's
October 26th – Halloween Open Gym In the Dark
November 22nd (Friday) Drop N Shop 9:00 am – 1:00 pm
December 21st – Sweets with Santa