Leisa Hafey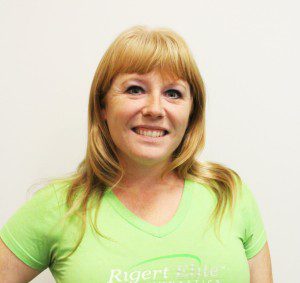 Girls Team Level 2 Coach
Leisa has been in the gymnastics sport since she was 7 years old after her dad gave her the choice between karate or gymnastics, she chose gymnastics. She was competing after only 1 year. She continued her career through level 10 until she was 14 years old when she retired due to a knee injury that took her out of the sport. While competing she won many state titles including vault and floor.
In 2012, with her younger daughter Rylee wanting to start gymnastics, Leisa decided to come back to the gym herself and has enjoyed coaching recreational, Pre-Team as well as Team classes ever since.  She shows great enthusiasm with the kids and is excited to see them learn new skill and reach new goals.
Leisa's goals as a coach are to instill pride, self-confidence, strength and the aspect of teamwork for each of her gymnasts.
When Leisa is not in the gym, she works as a dental office manager. She has 2 girls and a husband of 21 years. Her daughter, Rylee, is on the REG Competitive Team as well!
Leisa's hobbies include 4 wheeling with their Jeep club, spending time with her family and, of course, gymnastics.