Monthly Special Open Gyms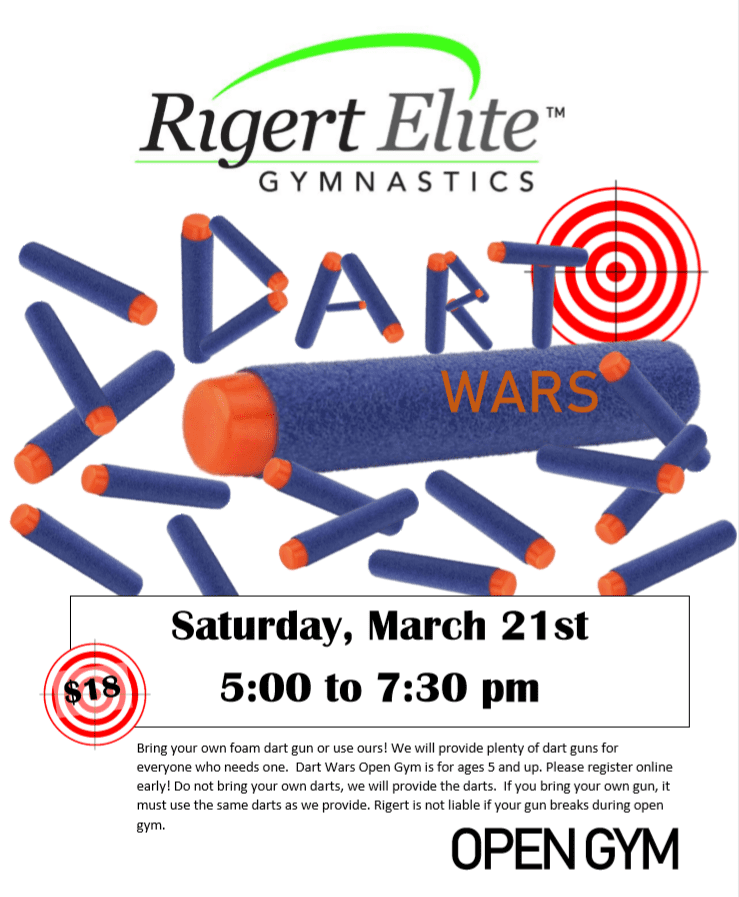 Special Open Gym Events
Each month at Rigert Elite we offer one extra special night of fun during a Saturday night Open Gym.  Each month the special open gym has a different fun theme.  The special open gym's usually include a meal and the usual 2.5 hours of play time (sometimes longer!) as well as something just a little extra special!  Our Special Open gym pricing is normally $18/person and open gym passes and normal discounts do not apply for these.  Most of them are for ages 5 and up so be sure to check the age requirements before registering.  Many times they fill up to capacity, so make sure you sign your kids up early so they don't miss out!  Payment is due at the time of registration and will be ran on the card on file within 48 hours of the time you register.  You do not need to be a member to attend our open gyms, but you must have a family account online and be registered for each event you plan on attending through the online system.  This ensures all the proper waivers are done.
TENTATIVE 2020 SPECIAL OPEN GYM SCHEDULE – these dates are subject to change throughout the year.  Look for flyers with for sure dates and times etc. each month. 
All Special Open Gyms are Saturday Open Gyms from 5:00-7:30 pm unless otherwise specified.  You must register and pay in advance to secure your spot during all Special Open Gyms as we do hit max capacity frequently.
January 18th Open Gym In the Dark – Cosmic New Year – 5:00 to 7:30 pm
February 15th  Love to Jump –Bounce House Open Gym – 5:00-8:00 pm
March 21st Dart Wars – Dart Gun Fun – 5:00-7:30 pm
April 11th – Easter Egg Hunt Open Gym – 5:00 – 7:30 pm
May 16th – Cinco De Mayo – Nachos and Pinatas – 5:00 -7:30 pm